National brand strategist and award-winning marketing photographer Britney Gardner invites the Cheers Creative Partners for a chat on Episode 22 of the Know Like & Trust Show!
Listen to Dana James Mwangi and Eso Tolson talk about how leaders can increase their visibility, trust factor, and engagement through brand and web design.
---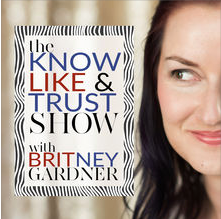 ABOUT THE PODCAST
"Explore the world of personal branding and how to build your know like and trust factor up for ultimate business success. Brand Strategist and Marketing Photographer Britney Gardner comes together with small business experts to explore the relationship between the art of personal branding and the strategy behind building up your know, like and trust factor. She'll guide you through balancing money-generating activities, deep work to grow your small business, and personal projects that keep your world just light-hearted enough to remember why you became an entrepreneur in the first place."
---
LISTEN NOW ON BRITNEYGARDNER.COM
Subscribe via iTunes • Subscribe via Stitcher
Subscribe via Google Play • Subscribe via RSS Feed
Make sure you leave an honest review of the Know Like & Trust Show here!