Dana James Mwangi
Founder + Brand & Web Strategist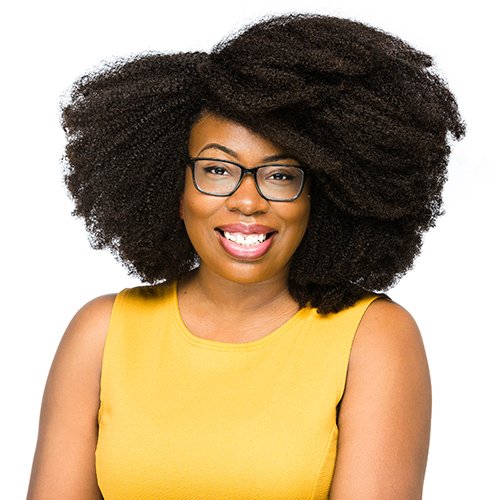 Dana founded Cheers Creative in 2012. Her experience designing for SunTrust and Wells Fargo, and packaging for home storage items sold in Walmart and Target has shaped her understanding of brand consistency. Dana's writing about effective design have been referenced in Forbes.com, and she's been featured in dozens of business, branding and design podcasts, blog interviews and 'Women in Tech' roundup discussions. Dana received a BFA with a concentration in Graphic Design from the University of Memphis. Currently, she mentors middle-school and high-school age girls about entrepreneurship through the non-profit organization Envision Lead Grow, and spends time with her husband, two sons, and twin girls.

Fun Questions
Q: When did you know you wanted to be a designer?
Dana: "I decided to major in graphic design in college after talking to a mentor, but when I look back I think I was leaning toward design years before. When I was a teen, I used to literally take my favorite fonts and draw each character until I could draw them from memory. In college I had a cashier job at Target and I just loved the way the posters and signage changed in the store when holidays would come up. I always wanted to do something like that. But you know what? Everything comes full circle. I've designed packaging for items sitting on the shelves in Target right now."
Q: If you were on a desert island and could only take one thing, what would it be?
Dana: "A gallon of Coconut oil. Without hesitation. (laughs)"
Q: What's your favorite color?
Dana: "I don't have one actually. I think any color is great as long as whatever it's on is executed well. Also, I have favorite colors that I wear, but I would not want home interiors in those colors. It's complicated."
Q: What's your hidden talent?
Dana: "I have THE best Michael McDonald, Johnny Gill, Hall & Oats, Brittney Spears & Cher impersonations on planet earth. I always joke that the Michael McDonald impersonation in particular impressed the guy I was dating at the time. We've been married for 4 years now."
Q: What's your guilty pleasure?
Dana: "Alright, I'm gonna make a confession. I, Dana James Mwangi, am addicted to harvesting the most hilarious pop culture memes from the internet. But my partner Eso sends me at least 60% of them (laughs)."
Q: What's something worth celebrating to you?
Dana: "I see things worth celebrating everyday. Over the years we have these small triumphs that, for some reason, we don't acknowledge. Then, we talk to others about our experiences and we suddenly become these superhumans. I hope through the work we do here at Cheers Creative that we can give people the gift of seeing themselves the way they truly are."
---
---
Connect with Dana Online:
www.danajamesmwangi.com
Email Dana:
dana@cheerscreative.com

---
Eso Tolson
Partner + Brand & Web Strategist
Eso is a creative director/designer with a background in print, typography, and illustration. Before joining Cheers Creative, Eso developed and oversaw a wide range of brands including musical events, holiday galas, industry specialists and community projects. His work has been recognized by the Illinois State He received his BFA from Memphis College of Art with an emphasis in Design Arts. He's passionate about music, good typography, food, pop culture, and inner city life.
Fun Questions
Q: Who inspires you as a creative director?
Eso: "Well, growing up, I was surrounded by what I'd like to call "creative leaders". Theses people are your choir directors, stage managers, choreographers, event planners, and head coaches of the world. Those people always captured my attention. They all were in the position of developing a creative strategy that required working with a group of people to execute a proposed solution. For some reason, That was so cool to me!! (Laughs) The really good ones had great knowledge of their respective field and were able to communicate that with the team. So, I guess I'm inspired by creative thinkers and leaders. To name a few, I like Daniel Dickerson, Austin Kleon, and Phil Jackson."
Q: If you were on a desert island and could only take one thing, what would it be?
Eso: "I'm trying to understand why I'm on a desert island in the first place. Does this place have a resort? (laughs) No? Well, I guess I'll bring my sketchbook."
Q: What do you like to collect?
Eso: "Other than collecting really dope visuals on my Pinterest, I like to collect magazines. I have some old Vibe and Ebony magazines that I've kept over the years. I also have a few more like V, Graphic Design USA, Architectural Digest, Red Bulletin, and Computer Arts."

Q: What brand do you follow the most on Instagram?
Eso: "It's Street Etiquette. They're probably my favorite fashion/lifestyle blog. I've been following them for 5 years now. They gotta be some of the coolest guys walking around here. And their IG is absolutely beautiful. Mister Doodle is a close second. Incredible hand-lettering there."

Q: What's your favorite season?
Eso: "Yo!! Fall is the best season. Its not too hot and it's not to cold. It's also the most stylish season of them all. Sweaters, cardigans, boots, jackets, hats, bold colors, etc. it's the one season you can wear shorts and a sweatshirt and not look crazy. (Laughs) Anything goes."


Q: What's something worth celebrating to you?
Eso: "We all know about the big events to celebrate in life. Events like graduating from college, getting your first car, or turning 21 are the ones we usually highlight. But, I believe the small things that happen are just as important."

---
Connect with Eso Online:
www.esotolson.com
Email Eso:
eso@cheerscreative.com

---